Hopefully someone can help here.
I'm looking ofr a figure of Druss, or something similar, from the David Gemmell books. Now part of the problem is there have been so many different images in the book covers such as: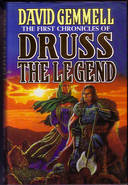 But one of my favorite is
Once it has Snaga, the double-headed axe.
Are tehre figures suitable for other Gemmell characters too?
Any halp or guidance you can provide will be appreciated.
Thanks
Sean